Commandos: Strike Force is a first-person shooter computer game and the fifth installment critically acclaimed Commandos series. It is developed by Pyro Studios and published by Eidos Interactive.
Released during the first months of 2006, the game makes a departure from the first three games. Although the missions are set-up in a similar fashion (several different objectives, some to be achieved through stealth, others through use of force) and in most occasions the player is allowed to change between different characters, this is the first game in the series to apply a first-person perspective, like many other World War II inspired games, in contrast to the overhead view of the earlier games. Hence, the game is far more similar to the Medal of Honor or Call of Duty games than to earlier entries of the series. The game introduces new weaponry including shotgun, grenade launcher, light machineguns and a dual-akimbo mode (only for the Green Beret).
The game attracted an overwhelmingly negative reaction, especially from those coming from fans of the earlier games in the series who see this a massive departure mainly due to the trademark difficulty instead giving way to a game that is much less so. Similarly, it was promoted as mixing elements of strategy from the past games with traditional first-person shooter gameplay but instead only hinted them and whilst being predominantly action orientated. As a result, both critics and fans felt it did little to distance itself from the recent flood of similar games.
Commandos
[
]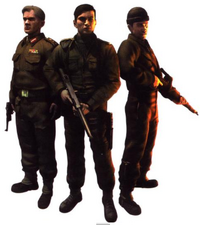 Unlike the previous games, this game has only three playable commandos which are the Green Beret, Sniper, and the Spy. They are considered as a combination of the commandos from the previous games. For example, the sniper is the only commando that can swim even in the cold water. While Green Beret and Spy can plant bombs on enemy targets.
| Picture | Name | Position | Weapons | Talents |
| --- | --- | --- | --- | --- |
| | Lt. William Hawkins | Sniper | Sniper rifle, Throwing Knives, Pistol, Grenades, Mines | Swimming, Stealth, Long Range Attack |
| | Cpt. Francis O'Brien | Green Beret | Knife, Submachine Gun, Machine Gun, Rifle, Grenades, Mines, Explosives | Demolitions, Heavy Weaponry, Weapons Akimbo |
| | Col. George Brown | Spy | Garrote Wire, Silenced Pistol, Submachine Gun, Gas Grenades | Demolitions, Stealth, Disguise |
Missions
[
]
The game is divided into three campaigns. The first one takes place in France 1942 and consists of five missions. The second one takes place in Norway and consists of four missions. The third and last one takes place in USSR and consists of six missions. In most missions, the player will only be able to play as one type of commando, while in others, the player can switch between two different commandos to do different tasks.
| Mission | Sniper | Green Beret | Spy |
| --- | --- | --- | --- |
| 1-1 | ✓ | ✗ | ✗ |
| 1-2 | ✓ | ✓ | ✗ |
| 1-3 | ✗ | ✗ | ✓ |
| 1-4 | ✓ | ✗ | ✓ |
| 1-5 | ✗ | ✗ | ✓ |
| 2-1 | ✓ | ✓ | ✗ |
| 2-2 | ✓ | ✗ | ✓ |
| 2-3 | ✓ | ✓ | ✓ |
| 2-4 | ✓ | ✓ | ✗ |
| 3-1 | ✗ | ✗ | ✓ |
| 3-2 | ✗ | ✗ | ✓ |
| 3-3 | ✗ | ✗ | ✓ |
| 3-4 | ✓ | ✗ | ✗ |
| 3-5 | ✗ | ✓ | ✗ |
| 3-6 | ✓ | ✓ | ✗ |