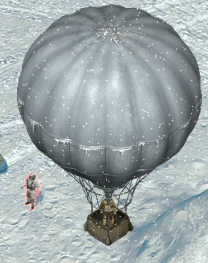 Hot Air Balloon is an aircraft that appears in Commandos 2: Men of Courage. It first appeared in the mission White Death as a free controllable aircraft then it reappears again in Castle Colditz as both free and escape aircraft once if the mission is completed.
This is the first and only playable aircraft in Commandos series.
In the mission Castle Colditz, the hot air balloon appears once if all the missions are complete. However, it will end the mission if all of your men ride into the balloon.