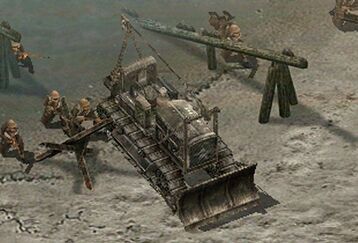 Sapper Truck is a vehicle that appears in Commandos 3: Destination Berlin mission Storm the Beach. It drives over the minefield to detonate the mines.
Trivia
It is based on Caterpillar D4 Army Bulldozer.
This is the third in-game American military vehicle that appeared in Commandos video games. Other beings are GMC CCKW 353 and the Willys MB.
The Sapper Truck is invulnerable to mines.
It is impossible that the Sapper Truck drives by itself without a driver after the Green Beret eliminated the enemy machine gunners.