This mission is located in Burma. The main goal is to liberate a Burmese town from Japanese control. The player can use the help of local Gurkhas during this misson.
Introduction:
May 1942
"After conquering Singapore, Hong Kong and the Philippines, Japan overcomes Thailand and Burma in a few weeks. Its next objective: India. The plan consists in launching a powerful offensive through the borders of Burma, advancing to Calcutta, there joining its forces landed on the southern Indian coast, thus trapping the allies in a deadly pincer move.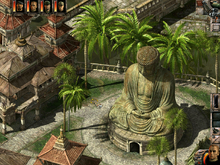 The Allied High Command settled on the plains of Imphal, knows the key to preserve India consists in stopping the Japanese offensive at the border. This is a heroic task as the allied troops are outnumbered and exhausted from months of defeat and withdrawals in the Asian continent.
Cut off and with no hope for reinforcements in weeks, the only hope lies on a single battalion of the British Army, a group of mercenary fighters of Indian origins, fearful warriors known for their ferocity and courage in battle. The Gurkhas 1st Battalion."
The Team
Community content is available under
CC-BY-SA
unless otherwise noted.